The Catfish Conservation Group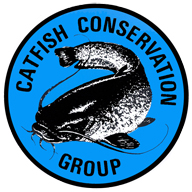 THE CCG (estd. 1984) is the World's first club dedicated to fishing for the wels catfish, (Latin name - Silurus glanis), also called the European or Danubian catfish. We are based in England but have catfishing members all over the World. If you want to know more information about the wels catfish, where to find them and how to catch them, or want to get advice or ideas about specialist catfishing tackle, you've come to the right place! If you are a travelling catfisherman, then this site also has something for you.
Many of our members catch catfish all over the World and have experience landing many other species of cats too including channel cats, mekong cats, vundu, sementendu, redtails, jau, piraiba, goonch and more! Some of their articles appear on this site. You can access lots of information through this site and get even more from the exclusive members section. Joining the CCG is easy,just click on membership section to find out more.. This website is the leading online resource for anyone interested in catfishing so if you have anything to contribute or if you would like to find out more, please join the group and let's learn together.
Catfish - Sheatfish - Wels - Waller - Silure - Siluro - Sumec - Ssom - Malle - Yayin baligi - Meerval - Sum - Harcsa - Monni - Glanidi - Samas


The Catfish Conservation Group - Dedicated to catfishing for more than 30 years!